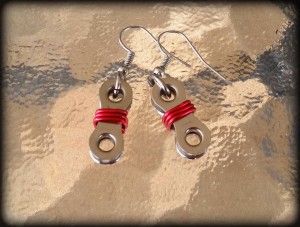 ChainWear Earrings!
We can hardly make enough of these, they go out the door so fast! A great little gift item, or get several for yourself to match your bracelet or necklace or outfits!
Same as with our other items, you can custom order these in your choice of color (one color). Gray links will have matching gray hooks, and silver links will have matching silver hooks. (Hooks are hypo-allergetic.) Please state in the color section whether you would like silver or gray links, or no preference.
CLICK ON THE PIC TO SEE COLOR INFO!